Chinese New Year 2022 Gift Ideas for Family and Corporate
2022 has arrived and Chinese New Year or The Lunar New Year is approaching fast. After Christmas, it is again a time for giving gifts to show your respect and affection for the people around you. Looking for great ideas on what to give for Chinese New Year gifts? We got your back! Read on to find out what are some gifts that surely won't make you "lao kui" or lose face in front of your colleagues, relatives and friends! Afterall, its the year of the tiger and you might as well look mighty as a tiger and at the same time remain in your budget!
Corporate gift for esteemed clients this CNY
1. Signature Norwegian Smoked Salmon Yu Sheng by Blue Lotus Restaurant  - SGD 98
Calling all the environmental-conscous! Say goodbye to Yusheng in plastic containers or on newspapers. Forget about referring to your phones to figure out the phrases on how to Lohei! This season, Singapore's critically acclaimed Chinese restaurant, Blue Lotus, collaborates with Tuck Lee Ice to introduce the most luxurious way to Lohei. Blue Lotus collaborates with Tuck Lee Ice to introduce a unique way to enjoy its Signature Norwegian Smoked Salmon Yusheng in the comfort of your office, in a luxurious red gift box that you can bring as a gift during Chinese New Year visitings or gift to thank your clients for their support.
This Yusheng have received rave review on Lian He Wanbao, The Straits Times, NOC Food King, and many other platforms!
Check out NOC Food King Good video:
Here are also some reviews we got from our Season's Best Yusheng! 
Bring it as a corporate gift for your company or gift to your colleagues and clients and they will definitely have a smooth sailing year ahead! Exclusive deal get it at the corporate rate of $80 by filling up this form. Don't say we got deal bojio!
Heartwarming Gifts for your Love Ones this CNY
1. Double Happiness Bundle Package - SGD 352
"Zeng" 曾 your reunion dinner by giving your family members' taste buds a great delight with Signature Norwegian Smoked Salmon Yusheng by Blue Lotus (富贵⻥⽣) and Auspicious Pen Cai in Claypot (新春盆菜)! They contain the following ingredients and items.
Yusheng - Serves 8-10 people (U.P $98)
Ingredients:
Tea-Smoked Norwegian Salmon

10 Herbs & Vegetables

2 Aromatic Spices

2 Types of Nuts

Crispy Salmon Skin

Spring Onion Infused Olive Oil

Wild Honey Yuzu Dressing

Pomelo
Optional Add-Ons:
Blue Lotus special braised 10H Abalone 8pcs: $38
Additional Tea Smoked Salmon 100g: $18
Additional Crispy Salmon Skin 80g: $8
Auspicious Pen Cai in Claypot - Serves 5-6 people (U.P $268)
Made with the Finest Ingredients:
Roast Pork
Chestnut
Dried Fish Maw
Shiitake Mushrooms
XL-Size Dried Oyster
Premium Black Moss
Australia Whole Abalone
Supreme Golden Broth of Pork Bones & Chicken
*Presented in Our Specially Designed Claypot
You can get them individually or get in a bundle to capture more savings! Afterall, good things come in pairs! Get your 双喜临门 bundle price
here
.
2. Food Hampers -
SGD $188 ~ $388
Who wouldn't want to give the best to your family? You would give the world to them if you could. Get a food hamper that have everything in it ranging from the must-have abalone to even mandarin oranges. 恭喜发财! 
3. Massage Chairs - SGD 160 ~ 600
Who doesn't like massages? Get your parents whom have taken such good care of you a massage tool or a massage chair if you are feeling generous! OSIM have their new arrival mickey mouse neck and shoulder uCozy massager! It is cute and a thoughtful gift!

The mickey mouse uCozy massager comes in 2 colours blue and pink. Perfect for your father and mother. If you want to pamper yourself get you and your partner a pair as well for valentine's day gift! 
4. Auspicious Tree Decoration - SGD 38
Does anyone agree with me that mothers will love anything that you buy for her? However, this CNY, get her a gift that she will definitely enjoy! We offer 2 kinds of trees!
CNY Auspicious Lucky Tree:
Chinese New Year Decoration for 2022, the Year of the Tiger. Available in Large and Medium. Includes lucky crystal and auspicious pearl. The tree branches are thick and the trees look full of life and with vigor. Weighted base for stable support. 
CNY Auspicious Wishing Tree:
Chinese New Year's Decorations to liven up your indoor living room! New and innovative design crafted using chinese craftmanship. Crafted specially for you who knows how to enjoy the simple pleasures in life. Brings in festive atmosphere. With good luck comes wealth! 
Pre-order now, delivery will be made from 15 January 2022 onwards. Use code "15OFF" for free shipping above 2 trees (because great things come in pairs!)
Prestigious Gift Set for your In-Laws this CNY
1. Double Happiness Bundle Package -
SGD 352
Likewise, for your extended family, for your significant other, what is a better way to show your sincerity with either the Yusheng 富贵⻥⽣ or Pen Cai 新春盆菜 gift box. Check out the gift box below!
2. Tonic Foods -
SGD 50 ~ 500
For those wanting be fillial to your significant other (SO) parents, you can present them with a hamper of tonic foods with awesome health benefits such as edible bird's nest, ginseng, walnuts, cordyceps, and goji berries.
If you are on low budget, you can go for Kinohimitsu Ginseng Bird's Nest Beverage which cost below $50 and you can get it at any NTUC Fairprice near you!
If you are looking for something more presentable as a working adult with higher budget, the go-to is for a hamper of tonic products. A very classic example is a hamper from Yu Yan Sang. Check out chinese new year gift hampers here!
3. Fruit Hamper - SGD 50 ~ 100
Fruit baskets or hampers are a very common and proper gift for your Chinese hosts, and they can be found in many traditional chinese shops. Giving a box of oranges or a box of apples is also recommended because apples and oranges respectively symbolize safety and fortune. Remember to give in even numbers!
Courteous Gifts for your Best Buddies this CNY
1. Alcohol of their choice - SGD 50 ~ 300
If your Chinese hosts drink alcohol, preparing a nice bottle of alcohol could be a nice choice. Check out Tuckshop.sg's collection of premium to affordable alcohol here! Alcohol from all over the world and brands are listed here for your pick! They have a wide range of wine, champagne, sake and more! You will definitely be able to find one that suits your friend or friends preference. Free delivery for orders above $100 right to your doorstep! Save the hassle.
2. Chocolate - SGD 10 ~ 100
With modernisation, give some chocolates! Because no one will hate chocolate right? Check out this amazing chocolates ranging from quality brands like Royce and awfully chocolate!
Here is one from GODIVA! Great and prestigious packaging good for gifting. Not only that, it is tasty and this decadent treat will be a delight to your friend's stomach!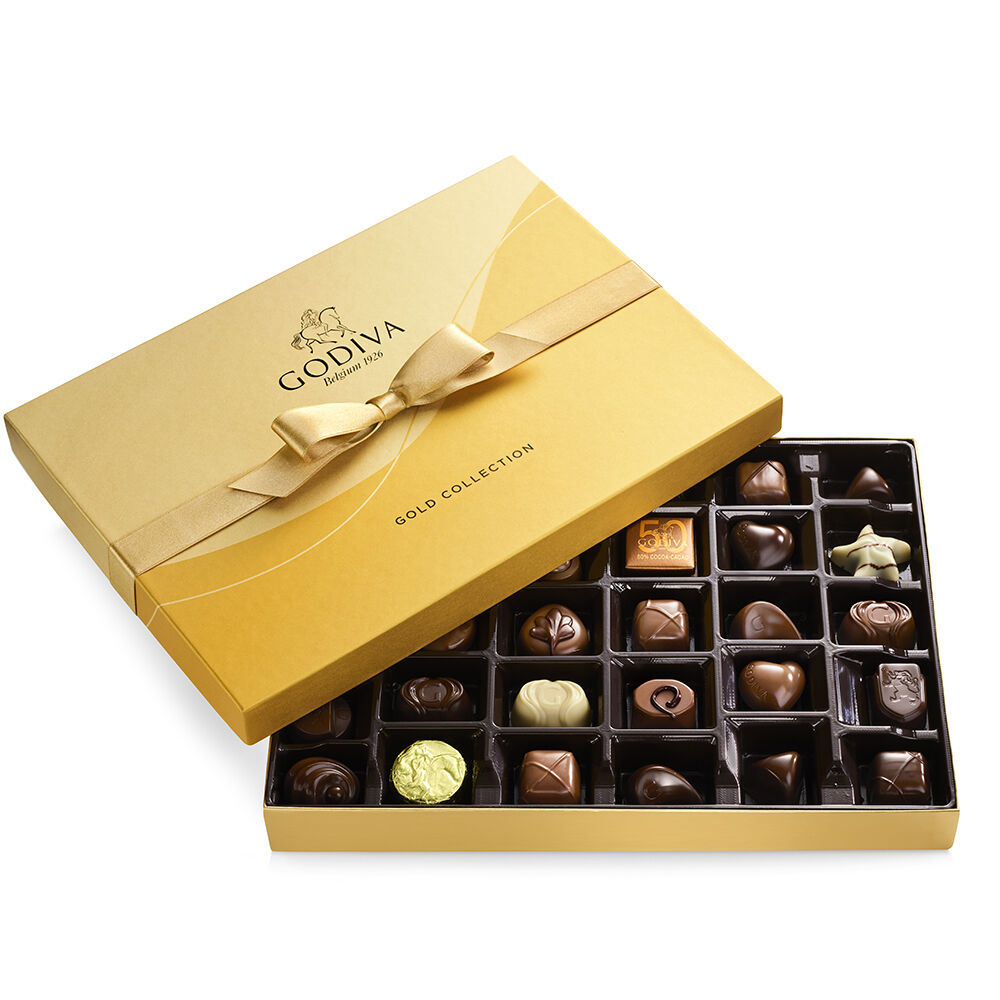 Surprise someone special with a gift of gourmet chocolates in dark, milk and white chocolate with decadent Belgian fillings presented in our iconic gold gift box with your choice of ribbon.
Give a gift that will be thoroughly enjoyed! Their iconic gold gift boxes are filled with milk chocolate, dark chocolate, and white chocolate is sure to deliver an extraordinary taste experience. Each chocolate piece offers an exciting flavor profile. You'll discover unique combinations of rich ganache, velvety caramel, luscious praliné, refreshing fruit, and crunchy nuts. Created with the finest ingredients in the Belgian tradition, our gold chocolate box will wow recipients with pieces such as: Midnight Swirl, velvety ganache made with 85% chocolate in a dark chocolate shell; Salted Caramel Lion of Belgium, rich, buttery caramel with a hint of salt, surrounded by a crisp dark chocolate shell; and Almond Crunch, almond chunks embedded within solid milk chocolate and dipped in dark chocolate. White chocolate lovers will adore our Raspberry Star, refreshing raspberry puree within creamy-sweet white chocolate. There are exciting flavors to explore with our gourmet chocolate Gold Gift Boxes. This exquisite chocolate box is the perfect gift for birthdays, anniversaries, holiday celebrations, or even a gift to yourself! This beautiful gold box is pure chocolate pleasure.
Get yours today or for the upcoming valentine's day! Your partner will love you more!
Fuss-free gift options
1. Special Bundle - 2 Sets of Yusheng FREE Lucky Tree - SGD 196
We are having a very exclusive bundle on-going! Get 2 sets of our signature yusheng and we will give you a FREE lucky tree worth $38! Give 1 set of yusheng to your family and 1 set to your in-laws! Decorate your house with the lucky tree to start your year right! 
Do you have any more gift-giving ideas? Share with us! What are the kinds of gift do you like to receive during chinese new year? Gifts are an expression of thoughts and appreciation. Often, it's the thought that counts! Give within your budget and spread the care!
If you have any questions regarding the Yusheng gift set at only $98 and Pen cai at $268, our friendly support staff are always here to help! Feel free to reach out to us! Check out our exclusive CNY products and gift sets here!